IFC, agCelerant and Bank of Africa Partner to Boost Rice Production in Senegal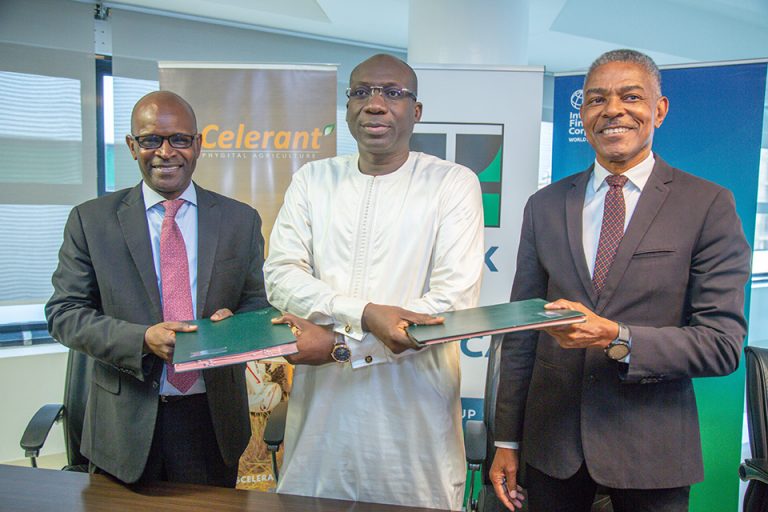 Dakar, Senegal, March 14, 2023 — To boost rice production and enhance food security in Senegal, IFC today announced a partnership with agCelerant and Bank of Africa to help smallholder farmers and small businesses in Senegal's rice value chain more easily access financing for growth.
Under the partnership, which is supported by the Private Sector Window of the Global Agriculture and Food Security Program (GAFSP), IFC will invest the local currency equivalent of $7.2 million in a risk-sharing facility to support Bank of Africa-Senegal's lending to thousands of smallholder rice farmers and small rice producing businesses, helping them access insurance, inputs and equipment, including seeds, fertilizers, and harvesters.
Bank of Africa will maximize the impact of its lending by leveraging the support of agCelerant, an agritech company that offers data-driven solutions and training to ensure farmers receive the financial and technical support they need to increase their productivity. The technology platform used by agCelerant was developed by Manobi Africa, a Mauritius-based digital company focusing on the water, energy and agricultural sectors in Africa.
IFC will also provide advisory services to agCelerant to strengthen its agri-related risk management practices, support its agri-sector strategy development, and to further enhance its digitization and value chain orchestration capacities.
"This partnership aligns with Bank of Africa's three-year development plan, which prioritizes support for SMEs in the agricultural sector," said Abdel Zampalegre, Managing Director of Bank of Africa-Senegal. "The financing will help increase the supply of local rice and support local value chains. It is also a strong step to strengthen food sovereignty in Senegal which is a key priority for the government."
"Senegal's dependence on food imports is unsustainable. We are proud to partner with IFC and Bank of Africa to de-risk agri-businesses financing and empower local value chains, paving the way for food sovereignty in Senegal. However successful we are in digitalizing the last mile, investments must flow to transform agriculture," said Daniel Annerose, CEO of agCelerant Senegal and Manobi Africa.   
"Increasing food security through improved access to finance and supporting agri-business value chains are two pillars of IFC's strategy in Africa," said Aliou Maiga, IFC's Regional Industry Director for the Financial Institutions Group in Africa. "We are proud to deepen our long-standing partnership with Bank of Africa and leverage agCelerant's innovative digital approach through this pilot to build a sustainable solution to Senegal's dependence on imports and improve the resilience of its food system."
Rice is a hugely important food in Senegal. However, despite favorable conditions for cultivation, the country still imports 60 percent of the rice it consumes. Producers face numerous challenges, including poor application of fertilizers, a lack of harvesting equipment, and limited financing.
IFC's support will help address the financial and technical bottlenecks hindering the development of a strong rice value chain and support increased local production.
This new partnership aligns with IFC's $6 billion global food security platform to strengthen the private sector's ability to respond to the current food crisis and help support food production in the context of the Russian invasion of Ukraine which has further exacerbated the global food insecurity situation.
About IFC
IFC — a member of the World Bank Group — is the largest global development institution focused on the private sector in emerging markets. IFC works in more than 100 countries, using its capital, expertise, and influence to create markets and opportunities in developing countries. In fiscal year 2022, IFC committed a record $32.8 billion to private companies and financial institutions in developing countries, leveraging the power of the private sector to end extreme poverty and boost shared prosperity as economies grapple with the impacts of global compounding crises. For more information, visit www.ifc.org.  
About the Global Agriculture and Food Security Program
The Global Agriculture and Food Security Program (GAFSP) is a global effort that pools donor resources to fund programs focused on increasing agricultural productivity as a way to reduce poverty and increase food and nutrition security. The Private Sector Window, administered by the IFC and supported by the governments of Australia, Canada, Japan, the Netherlands, the United Kingdom, and the United States, provides long- and short-term loans, credit guarantees, capital and technical assistance to private sector companies and financial intermediaries. It links smallholder farmers to markets by improving their access to finance, technology, expertise, and inputs.

About Bank of Africa
Bank of Africa-Senegal is a landmark bank, with a long experience in the sector and supported by a growing pan-African group. Bank of Africa-Senegal opened to the public in 2001, and currently holds a capital of 24 billion CFA francs. It is the only Senegalese bank listed on the Regional Stock Exchange (BRVM). Bank of Africa-Senegal has a network of 52 branches including 29 branches and 2 Business Centers in Dakar and 21 in the regions. Bank of Africa-Senegal offers a rich and varied range of products, designed to cover as widely as possible the demand of its customers, both individuals and companies.
Bank of Africa (BOA) Group currently operates in 19 countries across Africa. BOA Group is majority-owned by BMCE Bank (whose name recently changed to Bank of Africa), the 3rd largest bank in Morocco. BMCE Bank brings strong strategic and operational support to BOA Group, as well as direct access to international markets in view of its presence in Europe and Asia. Established 40 years ago in Mali, BOA Group currently has a total of about 6,500 employees. As of 2021, BOA Group had consolidated assets of €9.4 billion and consolidated net income of €164.5 million Euros.
About agCelerant
agCelerant is an innovative value chain orchestration platform that combines digital tools, proximal presence, and agricultural value chain expertise to connect farmers with credit, insurance, inputs, and buyers. Based on the 'phygital agriculture' concept first-coined in 2018 by Manobi Africa, agCelerant builds food sovereignty through data infrastructures that track production and transactions in smallholder value chains through to final consumers, de-risking investment and addressing smallholders' longstanding lack of access to capital and finances. agCelerant leverages privileged relationships with strategic research and business partners to build an innovation ecosystem which is now present in Senegal, Benin, Niger, Nigeria, and 06 other African countries (www.agcelerant.com).