With the premise that access to credit is only possible once investment risk is quantified (reducing finance institutions cash-out), more robust and socially-differentiated agricultural insurance is accessible and affordable (reducing exposure to persistent climate risk), and granular advisories support the tactical management of crop nutrient deficiencies and post-harvest losses (increasing productivity, harvest quality and income), agCelerant™ implements an innovative, holistic business model in which the entire value chain is simultaneously accompanied and protected as they empower themselves to respond to growing and changing customer needs.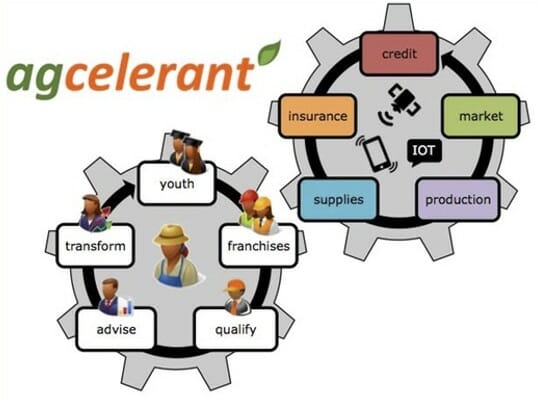 By vascularizing value chains with a nimble and granular data infrastructure that tracks agricultural production and transactions between each individual smallholder plot and consumer markets, agCelerant™ organically structures the traceability, transparency, and accountability that are paramount for agricultural finance to scale and demonstrate impact in the agricultural sector.
Quintessentially, agCelerant™ constructs the growth medium that will unlock, based on emergent and proven industrial demand, and market integration smallholder farmers expectations, the full expression and transformative power of efficiently orchestrated agricultural value chains.
Accomplish your business opportunities